10 Speedy Big Wheel Scooters That Kids Will Love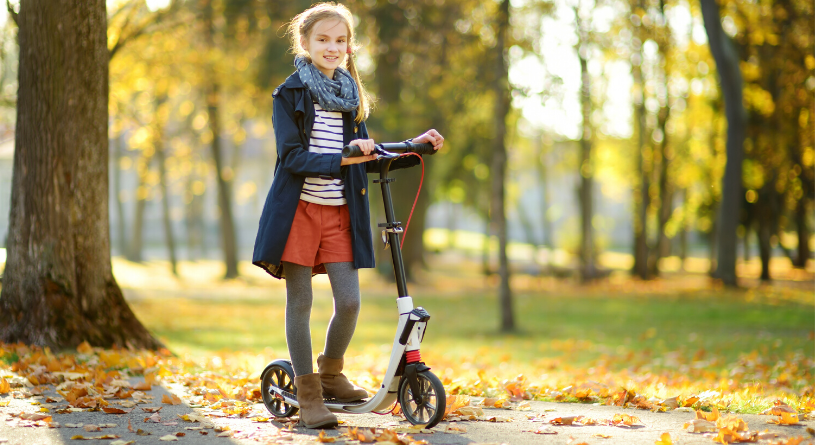 Looking for a children's scooter with big wheels? Big wheel scooters have a lot of advantages over those with smaller wheels.
Bigger wheels go faster and further with less effort. It takes fewer kicks to get bigger wheels up to speed.
They offer a smoother and more comfortable ride than their smaller wheeled counterparts as the bigger wheels will absorb more of the impact and shocks from bumps and cracks on the road.
This can make them a great commuter scooter as you can get where you're going to quickly and with less puff.
On the downside, they weigh heavier than scooters with smaller wheels. This is something to be considered if you have to carry them for long distances For example, when kids get tired, go up hill or you have to take the scooter on public transport.
There can be a compromise to be made in these cases as there are scooters with medium-sized wheels that aren't quite as heavy. Some of which are featured in the article.
There are big wheel scooters for kids of all ages. Little kids, bigger ones, teens and the biggest kid of all (the adult!).
Read on for our top ten suggestions.
*This post may have affiliate links, which means we may receive a small commissions if you choose to purchase through links we provide (at no extra cost to you).
Micro Cruiser
The creme de la creme of kids scooters with big wheels, you can't go wrong with the Micro cruiser. Yes, it's more expensive than most but the quality is second to none. What you will be getting is a scooter will an exceptionally smooth ride. The parts can all be repaired and replaced so the scooter can be kept out of landfill and passed onto siblings or sold second hand.
Down to the specifics, the scooter is recommended for kids between the ages of 5 and 10 years old.  Having said this, some taller riders may find that they outgrow the top handlebar height quickly so ideally the scooter is best for the 5 to 8 year old range. It's worth paying attention to the height recommendation which is 110cm to 146cm.
The 200mm wheels are big,  perfect to get little legs where they want to be quickly. The handlebar is height adjustable from 74cm to 88cm so will grow with your child.
Micro have thought of everything to make this scooter easy and comfortable for kids to ride. The wide, retro-style chopper handlebars make it easier to control for younger riders.
It's also easy for little kids to hop on and off, thanks to the low to the ground footplate which has a 6cm ground clearance. A lower footplate makes it easier for kids to kick along, as there is less distance to lower their kicking leg and push along.
The scooter weighs 4.5kg, so it is quite heavy if you have a child who is always wanting to get off and walk a lot. But a bigger wheel scooter is always going to be heavier than a smaller wheel one, so this is where you may have to compromise.
On the plus side, it does fold down, so you can easily pick it up and put it in a car boot or away to store.
Overall Verdict
A well designed, expertly engineered, top quality big wheel scooter which is ideal choice for kids between 5 and 8 and should last them until they are around 10 years old (about 146cm tall).

Razor A5 Lux Scooter

The Razor A5 Lux is best for older kids and teenagers.  With it's height adjustable handlebar from 72cm to 97cm, it's will accommodate kids and teens as the grow, even being an option for adults under the maximum weight capacity of 90kg.
There is much to like about the A5 Lux in comparison with other brands. It's low to the ground deck, means your kicking leg doesn't have far to go to push along, leading to a more comfortable ride. Scooter enthusiasts will easily glide along.
The 200mm polyurethane wheels get older kids faster, further and when they get there they can easily fold and carry their scooter. Weighing 4.2kg it is light enough to carry onto public transport and easily put in the boot of a car.
The deck size is 32cm by 10cm which is ideal for the older kids/teen age group. Not too small but large enough to comfortably ride.
The rear fender brake gives effective stopping power. However, it has to be said there are better options for more control and better braking on wet or slippery surfaces. Yes, you can ride the scooter in the rain but Razor don't officially recommend using the scooter in rainy weather.
The handy kickstand makes it easy to keep the scooter upright when storing or parking.
Perhaps another small criticism of the Razor is it can rattle a little but overall this is an awesome mid range kick scooter with a quality build and design from a well respected brand.
Overall Verdict
A decent big wheel scooter for older kids and teens from a respected brand with some useful features.

Razor A6 Kick Scooter
The super-sized 254mm urethane wheels and the height adjustable handlebar that extends to a mighty 106cm make the Razor A6 an awesome choice for teenagers who are looking for a commuter scooter to get them to school or college in rapid time.
The foldable scooter weighs 5kg. Sure, it's not the lightest but it most teens will still be capable of easily carrying it folded onto the bus or train or up a flight of stairs.
Razor have worked hard on this scooter to eliminate rattling with an anti-rattle folding mechanism.
Like the Razor A5, the deck is low to the ground meaning it's super-comfortable for that kicking leg.
There's a rear fender brake for a swift stop and a useful kickstand too.
Overall Verdict
An upgrade from the A5 Lux, the A6 big wheel scooter from a notable brand is the optimum choice for taller riders who are serious about scooting.
JD Bug 150 Street Series Scooter
If you're looking for a lighter scooter to carry, the JD Bug 150 series scooter is just that. It is a good compromise of slightly bigger wheels and a lower weight.
JD Bug is a long-established German scooter brand, well known for it's sleek, light, well-made scooters for children.
This scooter has been designed to bridge the gap between adults and kids with its 150mm, durable wheels. Not as big as some of the 200mm wheel scooters, but still a quicker ride than a standard 100mm wheeled scooter.
As already said, the wheels are a great compromise for a scooter that speeds along quickly but is exceptionally lightweight at just 3.3kg with a slimline profile. The folded dimensions are (L) 690mm x (W) 100mm x (H) 200mm so easy to take on public transport and ideal to transport in the boot.
The handlebar extends up to 99cm, making it a good choice for a fast-growing older child or teen. The scooter is designed for riders with a weight capacity of 100kg or less which means that most adults will also be able to hop on
The long, sturdy footplate measures 51 cm (l) by 10 (w) and it features a spring-loaded brake.
Overall Verdict
An excellent mid-wheel scooter, lighter for carrying but not quite as fast as scooters with 200mm wheels. A good option for kids, teens and adults.
JD Bug Series 200 Commuter Scooter
If you're looking for an excellent 200mm scooter that offers top-notch features at a competitive price, the JD Bug 200 is just that.
Ergonomically designed to help prevent unnecessary curvature of the spine, the JD bug provides a low footplate making it easy to kick along the ground and a handlebar adjusts from 74cm to 106cm. Ideal for growing kids, Mind you, the wide range of adjustment on the handlebar makes it suitable for the tallest of adults, so as long as you're under the load capacity of 100kg, parents can jump on as well!
The big 200mm 85a PU wheels with ABEC 9 rated bearings glide smoothly over bumpy pavements.
Perfectly designed for use public transport, there is a single lever that folds the scooter, making folding simple. It's similar in weight to other scooters with 200mm wheels at 4.5kg.
Overall Verdict
A top choice for value for money and quality. The specs and features are great but the price tag although not the cheapest is excellent bang for your buck.

Hudora Big Wheel RX-Pro 205
The German made Hudora 205 scooter is ideal for fun-seekers for ages 8 to teen (or even adults!). Perfect for a quick way to get around. The PU, 200mm wheels offer a speedy ride.
The height adjustable handlebar extends from 79cm to 104cm and is easy to fold. The aluminium footplate measures 33 cm (l) by 11.5 (w) which is a nice size for older kids. The rear brake is perfect for quick stops.
The build of the scooter is durable and reviews show that the scooter can withstand frequent use. However, compared to higher end scooters such as the Micro brand, it's not as easy to replace parts that are worn or break.
If we were to pick faults, the deck is slightly higher than on other scooters such as on the Razor brands. This means that a kicking leg will have to go further down to push along.
What's really useful is the convenient carry strap combined with it's low weight of just 4kg makes this scooter ultra-portable, a good option if you have to carry it up a flight of stairs or onto a bus.
Overall Verdict
An excellent mid range scooter which is competively priced. The big wheels make this a good option for speedy school runs.
Bikestar Kick Scooter with Air Tyres
The bikestar scooter is an awesome choice for young adventurers for ages 7 upwards.
The 12 inch pneumatic wheels on quality rims offer an cushioned ride over uneven terrain. It's ideal for comfortable outings over bumpy pavements and goes over sticks and stones easily. The air filled tyres also offer good traction on wets surfaces so no worries about slipping and sliding when it rains.
The practical height adjustable handlebar extends from 76 to 90cm so it will grow with kids.
Unfortunately, it isn't foldable and it is on the heavy side. It weighs  7.2kg but the it is expected that a scooter will weigh more if it has airfilled tyres, .
The skid-proof footplate is sturdy and safe. The Bikestar also features a big and strong rear and front wheel hand brake for responsive stops.
Overall Verdict
This is one of the only air filled big wheels scooters for young kids out there. It has rave reviews over on amazon. So if you're after a comfortable ride with good traction this is a good choie.

Zinc Urban X Commuter Scooter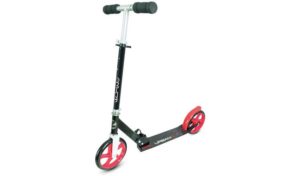 Affordability is the main selling point with the Zinc Urban X commuter scooter and unlike some others at this price, it offers a speedy ride with 200mm wheels.
True, it's not as sleek as pricier models but it's got some handy features – an adjustable handlebar which has three height adjustments at 84cm, 88.5cm and 93cm, rear brake and 200mm wheels to get you further at speed.
On the downside, the wheels are made of PVC which aren't as durable as urethane, so may not last as long and also may not absorb the bumps and shocks along the road as well.
At 4kg it's light to carry can fold so it's not a complete pain to carry or take on public transport. If you're on a budget, this scooter – aimed at kids from aged 8 plus – is well worth considering.
Overall Verdict
Cheap, cheerful and easy to ride. Ideal for speedy school runs or for scooting around the neighbourhood from a to b.

Razor A5 Air Commuter Scooter​

The Razor A5 air commuter scooter is super for older kids and teens for ages 8 all the way up to adult for a smooth ride over bumps and cracks in the pavement. Brilliant for enjoyable urban commuters like the school run.
The 200mm pneumatic wheels offer shock-absorbing, reliable performance. The anti-rattle height-adjustable handlebar extends from 75 to 97 and is foldable featuring a super strong easy fold t-tub.  The soft rubber grips for enhanced comfort, grasp and control. The low to ground footplate measures 13.4 cm (l)
The razor features a rear-fender brake for safe stops. The scooter weighs 5.6 meaning it's light despite the scooter having air filled wheels.
Overall Verdict
A scooter with pneumatic tyres for the older kids and teenage riders. The air filled wheels may be slower to start up but will offer a comfortable ride and more traction on the pavements when it's been raining.

Micro Flex Deluxe Scooter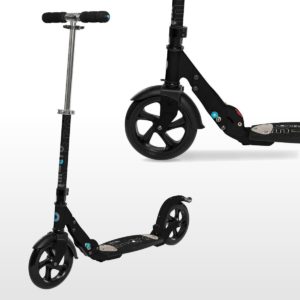 The Micro Flex is a top of the range scooter for older kids, teens and adults. With a handlebar that can adjust from 72cm to 103cm, it can accommodate tall riders.
Like all Micro scooters, the scooter is of top notch quality and is built to last. The PU 200mm wheels area great size for getting from a to b. The scooter has a unique ultra-flexible deck (being made of flexible fibrewood and glass) so it helps absorb the shocks and vibrations from the road adding to a smooth and comfortable ride.
It weighs 4.7kg which is similar to other scooters with 200mm wheels. It folds down to a compact 74cm x 12.5cm x 30cm so it can easily fit back of a car or to store.
Ergonomically designed for superior comfort, the Flex Deluxe features a low deck to lessen the strain on your back. The footplate measures 33cm by 13.5cm. Micro has some nice finishing touches. The handle grips are durable and provide unbeatable control and incredible comfort.
As with all micro scooters each key part of the scooter is replacable or repairable keeping the scooter out of the landfill and in working order for a lifetime.
Overall Verdict
A 200mm wheel scooter investment which is ideal for commuting comfortably and speedily to school or college or whizzing around the town. A superior, comfortable ride on a scooter that can last years if looked after properly.